Written by Mango Power
July 28, 2023
Buyer Guide
Exploring the Uses of Mango Power Solar Generators
Solar generators are now taking the world by storm. More people are choosing to invest in sustainable energy solutions around the globe. The shift to renewable power can be attributed to fossil fuel hikes, utility bill prices, and the general awareness of the state of our planet.
Whatever the reason, people are now hurrying to get their hands on a home power backup system – and you should be too. So, what does having a solar generator backup power system do for you?
Mango Power has been in the game of solar generators for a while now and we've successfully designed and integrated the best technology to ensure only the best home backup power system on the market. 
The Mango Power range of solar generators focuses on keeping your home powered up, your outdoor trips convenient, and your utility bill hikes non-existent.  
The Mango Power E is an impressive portable battery backup power system that can seamlessly keep your whole home powered up or easily taken along on outdoor adventures for reliable and steady power – in emergencies or simply on a regular day.
Some of the key features of the Mango Power E solar generator include:
Easy Customization for Different Uses
The Mango Power E can seamlessly be expanded with a Mango Power E Battery to a 7.06kWh capacity with a 3000W output. This makes it easier to use for various scenarios. Additionally, 2 Mango Power E devices can be connected with an E-Link cable to easily expand to a 14kWh capacity and 6000W output.
Ultra-Durable CATL LFP Battery Cells
The CATL lithium iron phosphate batteries used by the Mango Power E are much safer and more reliable than other batteries. The CATL's unique self-healing technology allows its batteries to run for more cycles - charging, discharging, and recharging several more times. The batteries also ensure long-lasting and reliable performance.
Rapid Charging
The ultra-durable CATL LFP battery cell technology used by the Mango Power E allows for faster charging - reaching up to 80% in just 1 hour and a full charge in 1,5 hours. 
Multiple Charging Methods
Easily charge the Mango Power E using several different methods - including 
3000W maximum generator charging

2000W maximum EV station charging

2000W maximum solar charging

Or 3000W maximum grid charging
Seamlessly charge your Mango Power E at home, at any of the thousands of EV stations around the world, or go green by hooking it up to some solar panels for cleaner charging.
240V Split-Phase for Heavy-Duty Appliances
Using the mSocket Pro accessory, the Mango Power E device can become a high-powered split-phase generator that's capable of delivering a 240V output. This allows you to easily run large, power-consuming appliances such as heaters, dryers, water pumps, and more.
Emergency Preparedness
When it comes to solar generators, the first thought is that they can provide power when something happens to the grid. Natural disasters and storms are now a much more common threat thanks to rapid climate change. 
This means that grids are more likely to fail and blackouts are now a reality we all have to face. Fortunately, a solar generator is an ideal choice for emergencies. Solar generators use the sun's unlimited energy to produce power, making it reliable and consistent. Solar energy also cuts down drastically on expenses and utility bills. 
Having a solar generator during an emergency can help in a lot of ways. Some of these include:
Food quality. When freezers and fridges are unable to function for too long, it can lead to food poisoning and wastage.

Security. Some security systems need constant electricity to maintain their posture. In an emergency, your solar generator will still keep your home and family safe.

Communication. In emergencies, it's important to stay in touch with one another and with medical or emergency personnel. A solar generator keeps your phone charged and routers on so you can still reach out. 

Severe weather. Emergencies can consist of drastic weather changes – such as snowstorms or heat waves. A solar generator will keep the backup power running to warm or cool your home as needed.
Solar generators are also portable by design which means that you can take your power wherever you go. This makes it perfect for emergencies that cannot be based in one place alone – like floods or storms.
A solar generator will also keep your outdoor adventures powered up and safe in an emergency and more.
Outdoor Adventures and Camping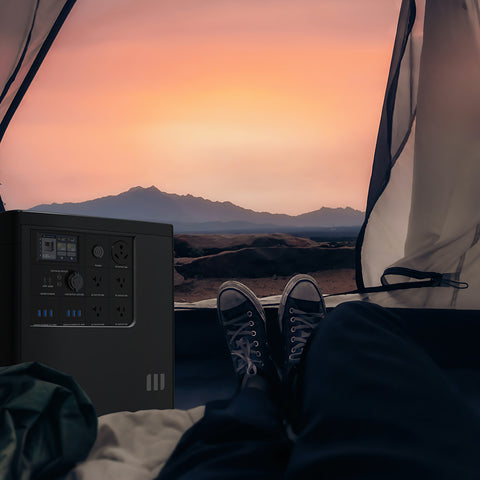 Outdoor hiking or camping trips can be the perfect way to unwind, spend time with loved ones, and get some good exercise. However, our daily lives and needs still require a power source.
A solar generator ensures that your outdoor adventures and camping trips are powered up, enjoyable, and safe. Camping trips can make good use of having a backup power source:
Solar generators can keep your phones charged and ready in case of emergencies on isolated hiking trails.

GPS and cameras can also be charged and ready to go so you never get lost and can capture all the memories made.

Food can be easily heated up – especially for outdoor trips that involve fishing or hunting. 

A solar generator can also give you the power to boil any water so you have fresh and clean water to drink or use at any time.

Speakers, laptops, outdoor appliances, and more can all be kept up and running for use.
The Mango Power solar generators are all sleek and conveniently portable to accommodate all your outdoor needs as well. With its roller design and lightweight features, it's ideal for your hiking or camping trips. 
The Mango Power solar generators also feature multiple recharging options. Easily charge the Mango Power E using several different methods – including:
3000W maximum generator charging

2000W maximum EV station charging

2000W maximum solar charging

Or 3000W maximum grid charging
These backup power devices ensure that your outdoor adventures are safe, reliable, and in good hands with Mango Power. 
Home Improvement and DIY Projects
Remodeling a home and DIY projects can be tricky. It's even more tricky when you constantly need power in different places – both inside and outside of the house. A solar generator provides portability to ensure that your power tools can stay connected at whichever precarious angle you need them to when doing remodeling. 
Solar generators also help to keep your working site powered up if the electric work hasn't yet been completed. Backup power allows you to keep your tools functioning. 
 A Mango Power solar generator puts in the work to keep your work going. Even for the more heavy-duty equipment, connecting 2 Mango Power E devices gives you an impressive 240V Split-Phase output.
Sustainable Living and Renewable Energy
The planet is quickly changing and so are its people. As climate change and global warming push us to the brink of disaster, more and more people are opting for renewable energy resources.  
Solar energy is the ideal solution for those looking for more sustainable power sources. Not only does solar power reduce expenses and ensure consistent energy, but it also helps to reduce our impact on the environment. 
The Mango Power E solar generator supports an impressive 2000Wh solar energy input that allows you to easily power up your essential home devices – inside your home and outside. Additionally, connecting your Mango Power E to two 200W (36V) Mango Power solar panels gives you an unprecedented off-grid power supply.
The solar generator also provides a 0.79 kg reduction in carbon emissions with every recharge - equivalent to the amount of carbon captured by 48 trees in a day. This ensures that using the Mango Power E gives back to the environment.
Mango Power's vision is to achieve a zero-carbon emission future for us all by providing advanced and elaborate sustainable solar generators. We are dedicated to ensuring a convenient lifestyle that won't hurt the planet.
Choose Mango Power for Your Whole-Home Battery Backup System 
Mango Power is dedicated to introducing innovative design and technology to the renewable energy market. These solar generators ensure peak performance and reliable backup power.
From emergencies and camping trips to home improvement projects and saving the planet – Mango Power has a solar generator that can meet all your needs and more.
Make the smart choice and choose the Mango Power E for a whole-home battery backup that can also be taken wherever you go. The affordable, portable, and convenient backup power solution will revolutionize the way you operate. 
Alternatively, the Mango Power M is ideal for home-whole battery backup energy. The higher capacity and output make it perfect for your entire home's power needs without a hiccup. If you have the money to invest in an all-in-one, larger-scale energy solution for your entire home, the Mango Power M is your best choice.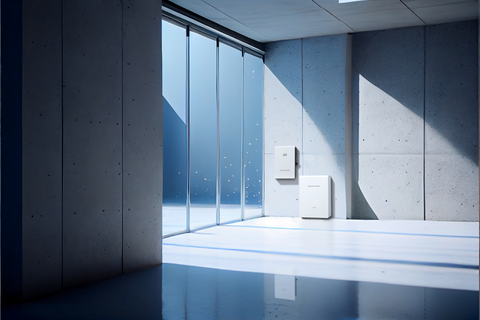 Learn more about the Mango Power range and our innovative and sustainable portable power solutions at our website
mangopower.com
Don't miss out
Sign up to get email updates
POPULAR POSTS